As we about to commemorate 6 years of collaborating with Building Blocks India, we wanted to feature this amazing Project once more, as we've done over the years, and share their latest updates from Bangalore.
Building Blocks is an organization committed to breaking the poverty cycle in India by providing free quality education to underprivileged children who lack the opportunity to receive any form of instruction.
Building Blocks follows a kindergarten program designed to give underprivileged children a good foundation in English language, arithmetic, general science, social and practical life skills at an early age of three years.
Coming to Building Blocks every day from the slums where the children don't have access to clean running water, electricity, washrooms, Building Blocks centers are like a safe haven for them. For the first time in their lives, they learn to wash their hands with soap in the sink and also learn the use of a toothbrush, look at books with colorful pictures, use crayons for coloring and celebrate their birthday with their friends. Attending Building Blocks is a new world for them!
Our Foundation been providing every Building Blocks classroom with high quality early learning programs and full curricula for learning reading and language arts, music literacy and appreciation and elementary math.
Right now Building Blocks use Brillkids programs in every classroom in all of their seven centers. Altogether 500 kids are benefiting from the programs provided by EEECF.
Here are some latest updates straight from Building Blocks administration:
"This academic year we have introduced BrillKids programs for our 4 and 5 yr old students. We are doing Ist semester for 4 yr old students and IInd semester for 5yr old students. We continues including BK programs in our curriculum for 20 min in a day for 5 days a week, one lesson each day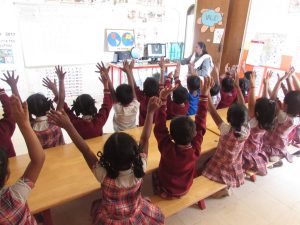 Brillkids has made teaching and learning easier for children and teacher's in classrooms.
Children enjoy Little Reader program the most and they try to imitate the accent followed in the program.
Little Reader is helping our children as they learn new vocabulary every time and this in turn help the children in learning communicative English.
Children are learning new action words, sight words and even making sentences through Little Reader.Children love the pictures shown in the slides.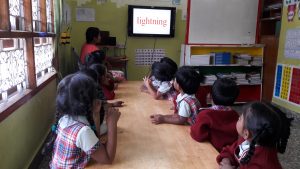 Stories in Brillkids Little Reader is in a sequence where children learn first the words, then phrases, then sentences and then finally the story. This is also enjoyed by the kids and makes the teacher's job easy.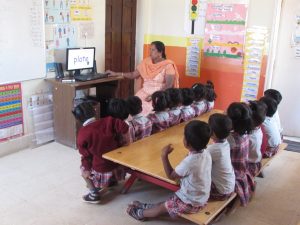 Lesson content is different every day, even the same day's lesson playback is different each time. this helps the Teacher for better explanation.
Because each word in Little Reader program has several picture files attached, children understand the concept easily and also enjoy the lessons.
Games play an important role as an assessment tool for the teacher's in the classroom, we are very pleased that they are included in Little Reader Program.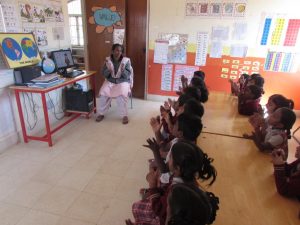 In Little Musician kids like the clap along session the most! They recognize some of the musical instruments shown in the slides. And they sing along with the notes.
Please take a look at the pictures of kids enjoying programs, curricula and supplementary educational materials from Early Education for Every Child Foundation and its educational partners in our schools.
'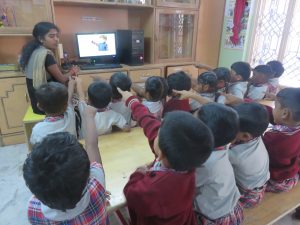 Thank you for your continued support!
Building Blocks Team "
We want to express a BIG THANK you to BrillKids International, as well as to Classics for Kids, Readeez and Monki See educational companies for making it possible for children like those in Building Blocks programs to receive education!