EEECF is committed to bringing more educational opportunities to children with special needs around the world.
For the last 6 years we have been collaborating with Deaf Reach Pakistan to bring educational programs and curricula to children from six schools nationally at Karachi, Nawabshah, Tando Allahyar (Rashidabad), Hyderabad, Sukkur and Lahore.
Deaf Reach Schools and Training Centers provide formal education, academic literacy and vocational skills training to deaf children and youth in an enabling environment where students can excel. Please take a moment to visit one of their schools through this video and learn more about their incredible endeavors in Pakistan by visiting their website
BrillKids Little Reader and Little Math curricula has become an integral part of Deaf Reach pre-primary and primary curricula.
Direct progress report from Curriculum Superviser:
"BrillKids software is used extensively in all of our Deaf Reach Campuses of Karachi, Hyderabad, Rashidabad, Nawabshah, Sukkur and Lahore. From Kindergarten to class III, these resources are currently one of the core resources to help particularly in vocabulary building. BrillKids has become an integral component of our Pre – Primary and Primary curricula.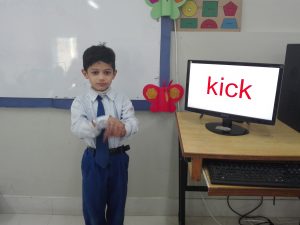 Students grasped the vocabulary very fast while learning through this software. The vocabulary included in this software are relevant to the age group and the topics which are part of the school's academic curriculum. As deaf are visual learners, the pictorial illustration is naturally the most effective way of explaining them thus, they quickly understand it.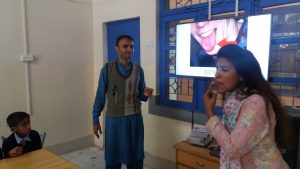 This vocabulary becomes the basis of the topic that is to be taught later on. The teachers have been given a demo on how to use these resources and they always try to come up with various techniques to make use of BrillKids in their respective subjects. The videos especially of the action words help a lot and is effective in explaining the concepts. Students themselves ask their teachers to show them these videos as they are fond of learning this way. PCs are placed in each of our classroom therefore, this software is conveniently in use in almost every topic.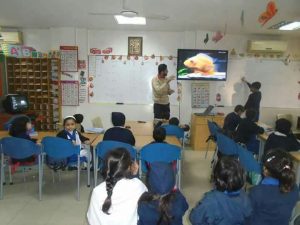 BrillKids software is being used for a total of 385 students in all six campuses from Kindergarten to Grade III.
52 teachers are involved in using it in their regular classes.
The teachers are very satisfied with these products and have witnessed the increased involvement and engagement of students in their classes. It has made their classes interesting and engaging. They encourage the students to actively participate as they sign these vocabulary and action words, finger spell them and then share the memorized words with their peers. It's an excellent tool for deaf children and typically should be an effective method to carry it out in early years of learning and development.
Deaf Reach believes to employ technology- based solutions for deaf learning. Our PSL Lexicon of 5000 words is one of the widely- used resource today in Deaf Education all over the Pakistan. Similarly, Iqra Software is a recent addition to our learning system. On the same grounds, BrillKids is complementing our efforts in bringing the technology- based learning for Deaf. It has added a great value to our teaching and learning platform. We believe that BrillKids is a wonderful asset for ensuring optimal growth and development of young children. The positive comments received from students, teachers and management assure that these programs are relevant, effective and the software is user-friendly.
We congratulate the Education for Every Child Foundation for coming up with this software which is equally beneficial for both Hearing and Deaf students. We look forward to explore other software and curricula programs offered by EEECF in future."