First Step Action works with very needy children. "The children we work with are abandoned by their parents. They are being rehabilitated and foster by the government in an institutions and homes. Some of them are HIV positive, and few are physically challenged. these children lack early stimulation and are cared for by unskilled caregivers. They lack quality care, their environment are without toys and learning materials."
We started with a pilot program in a typical FSACI classroom. Most of the children never got any educational instruction from their caregivers before, all of these children are orphans or were abandoned by their parents.
Here are some of the observations from  BRILL KIDS EARLY LEARNING EARLY CHILDCARE CENTRE, AT MAMA ABAYOL ORPHANAGE HOME IN MAKURDI, BENUE STATE, NIGERIA.
Literacy awareness – the children in the orphanage were never read to by their caregivers before this time. The interactions with their caregivers were very minimal. They only interact when their caregivers need to feed them or help when they wanted to go to toilet. They were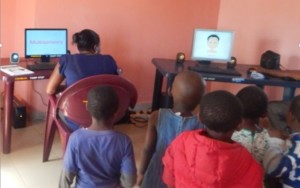 indoors most of the times of the day, when they are out of the bedrooms they were taking care by the older siblings. At the initial stage it was not easy to capture their attention to learn the literacy because it was not a common practice at the orphanage. There were children with speech impairment and have never been given attention. After using Little Reader, Monki See and Readeez programs for a few months they are slowly picking up. This is the most difficult. This is their first exposure to written language!
Math concept awareness
Children were not able to combine numbers with objects, were not able to memorize numbers and even use objects to represent numbers. They couldn't even count numbers. The only numbers they were able to say was 'one'. Their ability to count was very poor. The children were never talk to about numbers or shapes. They do not have such object for play in the orphanage. The children have very little understanding of numbers. Shapes, etc. they were never given an opportunity to repeat numbers. Since starting to use Little Math  children were able to start identifying number and quantities 1-3.
Music exposure
They children have never been exposed to music. Their ability to sing was poor. We observed that their caregivers do not sing to them. They have been using Little Musician for a few months now and most prefer to dance with the music but yet to start singing. Low skills of musical skills because they have never been sang to. With repetition of songs they are beginning to cope and learn!