We've been working together with Rise Above Foundation in Cebu for the last 6 years. In the last few years Rise Above Foundation organized, set up and managed the library for the kids from very poor families in the City of Cebu. Here is the latest report from Elisabet Hansen, Project Manager of Rise Above Foundation:
"Brillkids has been part of our daily educational learnings for the kids ages 3-6 yrs old since the Library opened almost 2 years ago. We regularly have up to 25 children come and learn, and the Library is open 6 days a week. Some days there are more then 50 children gather for the lessons! Its usually 25 little kids who come in the morning and sometimes as many as 50 in the afternoon.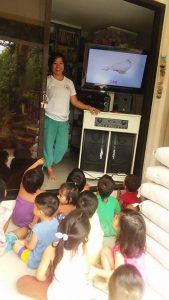 It is such a big help because they can see the pictures of the words given and it is very easy for them to remember. The kids have learned different basic words and they are able pronounce the words correctly. And once I read the ABC Little Reader Storybook Series, everybody listens up and participates. The kids also learned counting numbers so quickly.
Kids love music. In Brillkids Little Musician, the kids were able to sing the Do-Re-Mi song and love to participate what they see on the screen!
It is such a blessing to see the children learn. All of them come from very poor families, and some will not have the chance to go to school, as the parents cannot afford the school materials, uniform, shoes, etc. The Rise Above Library was opened to give the children in this depressed area the possibility of learning, and it's the highlight of their day when Adi, their teacher and Center Leader turns on the BrillKids program.
Almost 2 years ago, none of these children could communicate with our volunteers, who often come from abroad, but now, the children can keep a simple conversation in English.
We want to share our warmest appreciation with you. The program is changing the lives of these children and it does give them hope that they also can have a bright future!"